npj Digital Medicine
volume

1
, Article number:
18
(
2018
)
Abstract
Predictive modeling with electronic health record (EHR) data is anticipated to drive personalized medicine and improve healthcare quality. Constructing predictive statistical models typically requires extraction of curated predictor variables from normalized EHR data, a labor-intensive process that discards the vast majority of information in each patient's record. We propose a representation of patients' entire raw EHR records based on the Fast Healthcare Interoperability Resources (FHIR) format. We demonstrate that deep learning methods using this representation are capable of accurately predicting multiple medical events from multiple centers without site-specific data harmonization. We validated our approach using de-identified EHR data from two US academic medical centers with 216,221 adult patients hospitalized for at least 24 h. In the sequential format we propose, this volume of EHR data unrolled into a total of 46,864,534,945 data points, including clinical notes. Deep learning models achieved high accuracy for tasks such as predicting: in-hospital mortality (area under the receiver operator curve [AUROC] across sites 0.93–0.94), 30-day unplanned readmission (AUROC 0.75–0.76), prolonged length of stay (AUROC 0.85–0.86), and all of a patient's final discharge diagnoses (frequency-weighted AUROC 0.90). These models outperformed traditional, clinically-used predictive models in all cases. We believe that this approach can be used to create accurate and scalable predictions for a variety of clinical scenarios. In a case study of a particular prediction, we demonstrate that neural networks can be used to identify relevant information from the patient's chart.
Introduction
Related work
Our contribution is twofold. First, we report a generic data processing pipeline that can take raw EHR data as input, and produce FHIR outputs without manual feature harmonization. This makes it relatively easy to deploy our system to a new hospital. Second, based on data from two academic hospitals with a general patient population (not restricted to ICU), we demonstrate the effectiveness of deep learning models in a wide variety of predictive problems and settings (e.g., multiple prediction timing). Ours is a comprehensive study of deep learning in a variety of prediction problems based on multiple general hospital data. We do note, however, that similar deep learning techniques have been applied to EHR data in prior research as described above.
Results
We included a total of 216,221 hospitalizations involving 114,003 unique patients. The percent of hospitalizations with in-hospital deaths was 2.3% (4930/216,221), unplanned 30-day readmissions was 12.9% (27,918/216,221), and long length of stay was (23.9%). Patients had a range of 1–228 discharge diagnoses. The demographics and utilization characteristics are summarized in Table
1
. The median duration of patients' records, calculated by the difference of the timestamps of last and first FHIR resource was 3.1 years in Hospital A and 3.6 years in Hospital B.
At the time of admission, an average admission had 137,882 tokens (discrete pieces of data that we define in the methods section), which increased markedly throughout the patient's stay to 216,744 at discharge (Fig.
1
). For predictions made at discharge, the information considered across both datasets included 46,864,534,945 tokens of EHR data.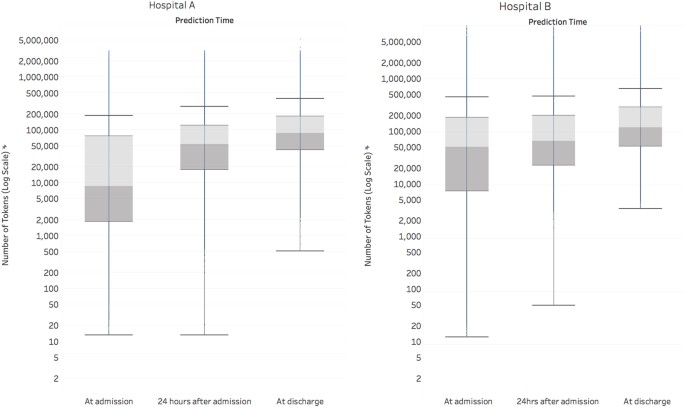 Mortality
For predicting inpatient mortality, the area under the receiver operating characteristic curve (AUROC) at 24 h after admission was 0.95 (95% CI 0.94–0.96) for Hospital A and 0.93 (95% CI 0.92–0.94) for Hospital B. This was significantly more accurate than the traditional predictive model, the augmented Early Warning Score(aEWS) which was a 28-factor logistic regression model (AUROC 0.85 (95% CI 0.81–0.89) for Hospital A and 0.86 (95% CI 0.83–0.88) for Hospital B) (Table
2
).
If a clinical team had to investigate patients predicted to be at high risk of dying, the rate of false alerts at each point in time was roughly halved by our model: at 24 h, the work-up-to-detection ratio of our model compared to the aEWS was 7.4 vs 14.3 (Hospital A) and 8.0 vs 15.4 (Hospital B). Moreover, the deep learning model achieved higher discrimination at every prediction time-point compared to the baseline models. The deep learning model attained a similar level of accuracy at 24–48 h earlier than the traditional models (Fig.
2
).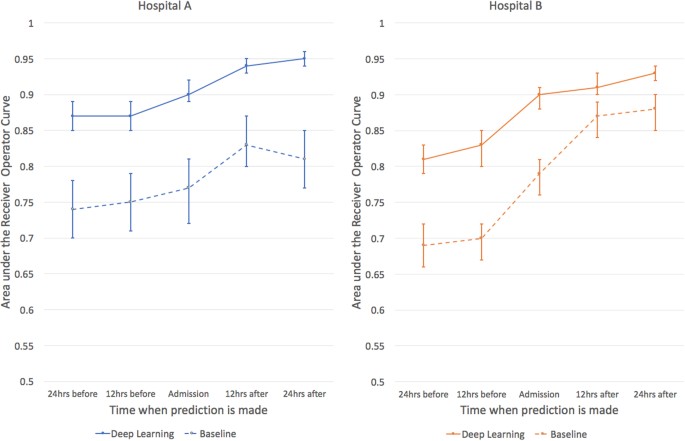 Readmissions
For predicting unexpected readmissions within 30 days, the AUROCs at discharge were 0.77 (95% CI 0.75–0.78) for Hospital A and 0.76 (95% CI 0.75–0.77) for Hospital B. These were significantly higher than the traditional predictive model (modified HOSPITAL) at discharge, which were 0.70 (95% CI 0.68–0.72) for Hospital A and 0.68 (95% CI 0.67–0.69) for Hospital B.
Long length of stay
For predicting long length of stay, the AUROCs at 24 h after admission were 0.86 (95% CI 0.86–0.87) for Hospital A and 0.85 (95% CI 0.84–0.86) for Hospital B. These were significantly higher than those from the traditional predictive model (modified Liu) at 24 h, which were 0.76 (95% CI 0.75–0.77) for Hospital A and 0.74 (95% CI 0.73–0.75) for Hospital B.
Calibration curves for the three tasks are shown in Supplement.
Inferring discharge diagnoses
The deep learning algorithm predicted patients' discharge diagnoses at three time points: at admission, after 24 h of hospitalization, and at the time of discharge (but before the discharge diagnoses were coded). For classifying all diagnosis codes, the weighted AUROCs at admission were 0.87 for Hospital A and 0.86 for Hospital B. Accuracy increased somewhat during the hospitalization, to 0.88–0.89 at 24 h and 0.90 for both hospitals at discharge. For classifying ICD-9 code predictions as correct, we required full-length code agreement. For example, 250.4 ("Diabetes with renal manifestations") would be considered different from 250.42 ("Diabetes with renal manifestations, type II or unspecified type, uncontrolled"). We also calculated the micro-F1 scores at discharge, which were 0.41 (Hospital A) and 0.40 (Hospital B).
Case study of model interpretation
In Fig.
3
, we illustrate an example of attribution methods on a specific prediction of inpatient mortality made at 24 h after admission. For this patient, the deep learning model predicted the risk of death of 19.9% and the aEWS model predicted 9.3%, and the patient ultimately died 10 days after admission. This patient's record had 175,639 data points (tokens), which were considered by the model. The timeline in Fig.
3
highlights the elements to which the model attends, with a close-up view of the first 24 h of the most recent hospitalization. From all the data, the models picked the elements that are highlighted in Fig.
3
: evidence of malignant pleural effusions and empyema from notes, antibiotics administered, and nursing documentation of a high risk of pressure ulcers (i.e., Braden index
41
). The model also placed high weights on concepts, such as "pleurx," the trade name for a small chest tube. The bolded sections are exactly what the model identified as discriminatory factors, not a manual selection. In contrast, the top predictors for the baseline model (not shown in Fig.
3
) were the values of the albumin, blood-urea-nitrogen, pulse, and white blood cell count. Note that for demonstration purposes, this example was generated from time-aware neural network models (TANNs) trained on separate modalities (e.g., flowsheets and notes), which is a common visualization technique to handle redundant features in the data (e.g., medication orders are also referenced in notes).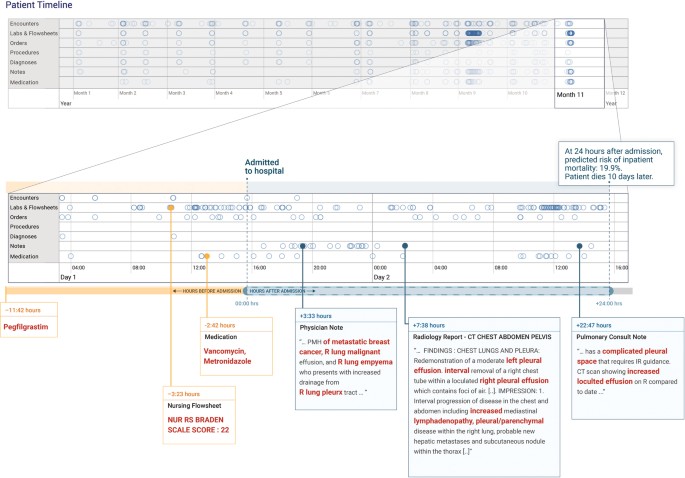 Discussion
A deep learning approach that incorporated the entire EHR, including free-text notes, produced predictions for a wide range of clinical problems and outcomes and outperformed traditional, clinically-used predictive models. Because we were interested in understanding whether deep learning could scale to produce valid predictions across divergent healthcare domains, we used a single data structure to make predictions for an important clinical outcome (death), a standard measure of quality of care (readmissions), a measure of resource utilization (length of stay), and a measure of understanding of a patient's problems (diagnoses).
Second, using the entirety of a patient's chart for every prediction does more than promote scalability, it exposes more data with which to make an accurate prediction. For predictions made at discharge, our deep learning models considered more than 46 billion pieces of EHR data and achieved more accurate predictions, earlier in the hospital stay, than did traditional models.
However, the novelty of the approach does not lie simply in incremental model performance improvements. Rather, this predictive performance was achieved without hand-selection of variables deemed important by an expert, similar to other applications of deep learning to EHR data. Instead, our model had access to tens of thousands of predictors for each patient, including free-text notes, and identified which data were important for a particular prediction.
Methods
Datasets
We included EHR data from the University of California, San Francisco (UCSF) from 2012 to 2016, and the University of Chicago Medicine (UCM) from 2009 to 2016. We refer to each health system as Hospital A and Hospital B. All EHRs were de-identified, except that dates of service were maintained in the UCM dataset. Both datasets contained patient demographics, provider orders, diagnoses, procedures, medications, laboratory values, vital signs, and flowsheet data, which represent all other structured data elements (e.g., nursing flowsheets), from all inpatient and outpatient encounters. The UCM dataset additionally contained de-identified, free-text medical notes. Each dataset was kept in an encrypted, access-controlled, and audited sandbox.
Ethics review and institutional review boards approved the study with waiver of informed consent or exemption at each institution.
---
Data representation and processing
---
Outcomes
We were interested in understanding whether deep learning could produce valid predictions across wide range of clinical problems and outcomes. We therefore selected outcomes from divergent domains, including an important clinical outcome (death), a standard measure of quality of care (readmissions), a measure of resource utilization (length of stay), and a measure of understanding of a patient's problems (diagnoses).
Inpatient mortality
30-day unplanned readmission
Long length of stay
We predicted a length of stay at least 7 days, which was approximately the 75th percentile of hospital stays for most services across the datasets. The length of stay was defined as the time between hospital admission and discharge.
Diagnoses
We predicted the entire set of primary and secondary ICD-9 billing diagnoses from a universe of 14,025 codes.
---
Prediction timing
---
Study cohort
We included all admissions for patients 18 years or older. We only included hospitalizations of 24 h or longer to ensure that predictions at various time points had identical cohorts.
To simulate the accuracy of a real-time prediction system, we included patients typically removed in studies of readmission, such as those discharged against medical advice, since these exclusion criteria would not be known when making predictions earlier in the hospitalization.
For predicting the ICD-9 diagnoses, we excluded encounters without any ICD-9 diagnosis (2–12% of encounters). These were generally encounters after October, 2015 when hospitals switched to ICD-10. We included such hospitalizations, however, for all other predictions.
---
Algorithm development and analysis
We used the same modeling algorithm on both hospitals' datasets, but treated each hospital as a separate dataset and reported results separately.
---
Comparison to previously published algorithms
---
Explanation of predictions
Technical details of the model architecture, training, variables, baseline models, and attribution methods are provided in the supplement.
---
Model evaluation and statistical analysis
Patients were randomly split into development (80%), validation (10%), and test (10%) sets. Model accuracy is reported on the test set, and 1000 bootstrapped samples were used to calculate 95% confidence intervals. To prevent overfitting, the test set remained unused (and hidden) until final evaluation.
---
Data availability
The datasets analysed during the current study are not publicly available: due to reasonable privacy and security concerns, the underlying EHR data are not easily redistributable to researchers other than those engaged in the Institutional Review Board-approved research collaborations with the named medical centers.
---
Code availability